Karen Martin
A clinical hypnotherapist, master NLP (Neuro-Linguistic Programming) and CBT (Cognitive Behavioural Therapy) practitioner based in the South East of England, Karen Martin has many years experience treating a wide range of conditions and disorders.
Anxiety in its many forms, from phobias to panic disorders, and behavioural change, like weight management and smoking cessation, are issues she specialises in and has a consistent track record of successfully treating.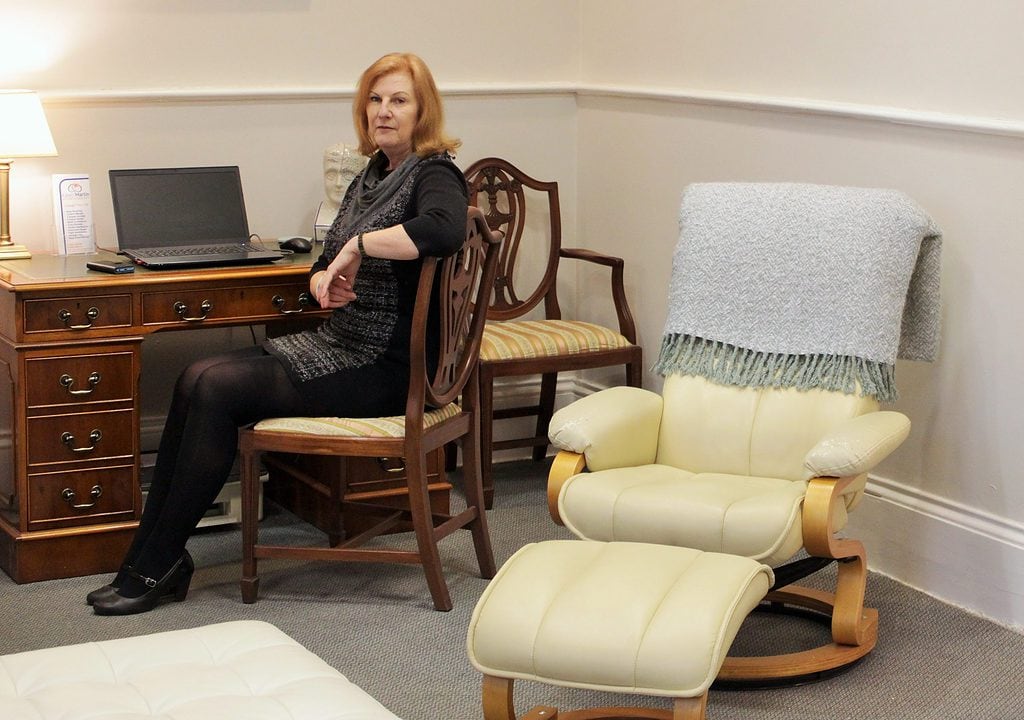 "Much of the work I do is about enabling people to achieve change in their thoughts, feelings and behaviour using their own subconscious resources. Neuroscientists are only now discovering how fantastically powerful our ability to use simple hypnotic techniques can be.

This is something I have observed countless times in people who come to me feeling hopeless, helpless and out of control who then discover in themselves transformative potential to improve their quality of life, achieve previously out of reach goals and fulfil their potential. It is a privilege to help them to do so."

Karen Martin
Audio Sessions
My self hypnosis audio sessions are available in a range of life-changing mp3 downloads. These have been developed over my years in practice as a clinical hypnotherapist and have helped hundreds of satisfied clients to achieve their goals.
Each session features tools and techniques specific to issues including, for example, anxiety and panic disorders, all kinds of phobias and habits like nail biting, as well as dealing with changes like controlling eating behaviour and overcoming addictions. I use tried and tested strategies to teach the listener how to use self hypnosis to achieve change.
By listening to any of my sessions repetitively, you can programme yourself to develop more positive thought processes, manage difficult emotions and take action with confidence. At the same time, you'll be guided into a state of deep relaxation, which feels just like taking a stress holiday.
Based in Tunbridge Wells, Kent
I have observed in my years operating clinics in West Kent, how impressed people are by practitioners who work in Harley Street. Despite the kudos attached to it, Harley Street is simply a road in central London where very high rents are charged to anyone who can afford them, whether they be expert in their field or not. Preferring to work outside London, where I can provide more affordable services, I have built a successful, accessible practice with a reputation to rival the best in Harley Street.
I am privileged to have a room in a beautiful mansion house on the historic Salomons Estate where there's plentiful parking and gorgeous landscaped grounds. There's also accommodation for those travelling to see me and a lounge and bistro which are much nicer than any waiting room. My room is a calm oasis, a confidential, safe space designed for comfort and peace of mind.
Training
My training began with an intensive full-time course run by the Surrey Institute of Clinical Hypnotherapy, where I benefited from being in a small class where we could all receive individual coaching from superb teachers. This was chosen in favour of joining seminars run by Paul McKenna at the time. There is a perception that his undoubted ability and international reputation somehow rubs off on the hundreds of students claiming attendance at his seminars.
So, while I would have loved to attend a masterclass with Mr McKenna, I eschewed the opportunity to observe him on a distant stage in favour of learning the basics under the close supervision of skilled clinical practitioners who work with ordinary people (as well as the occasional celebrity) just like I do now. My training continues with courses, lectures and seminars by, for example, 'hypnosurgery' specialist Paul Butler, the late lamented hypnotherapist Gil Boyne and NLP founder John Grinder. My skills and areas of expertise have been expanded with specialist training including Cognitive Behavioural Therapy, advanced NLP techniques and the treatment of addictions, smoking cessation, weight control, IBS and depression.
Specialist Skills
"Running a general hypnotherapy practice for as long as I have, I have worked with a vast range of conditions and issues. One of the remarkable things about my work is that I never know what to expect from day to day and therefore have to be adaptable enough to deal with the many and varied concerns of the 'worried well' as well as helping sufferers of more chronic or debilitating illnesses.

If I have any area of particular skill, it is the ability to alleviate anxiety, whether it be a phobia, panic disorder or social or performance anxiety. This is not because of any particular training but because of an intuitive, empathic knack which comes from experience. People feel safe enough to share their worst fears with me and trust that I can help them."

Karen Martin – Clinical hypnotherapist and master NLP practitioner