Hypnobirthing is safe and effective
What is clear from research findings is that hypnobirthing is a safe and effective way to decrease the perception of pain whilst increasing your ability to manage the sensations of labour.
With plenty of practice, it is possible for some women to use hypnobirthing techniques and self hypnosis to eliminate pain completely and experience only pressure during contractions. While not all of us can achieve this, we are all capable of decreasing our perception of pain and increasing our coping skills.
Hypnobirthing is an excellent way to reduce anxiety during pregnancy, experience comfortable childbirth without any pain medication and minimise the risk of post-natal depression.
Can hypnobirthing help with the pain?
When it's your first pregnancy, you don't know what you don't know about the experience of childbirth. But you do know that the one thing everyone talks about is the pain. And you also know that pain hurts!
Hypnotherapy is so effective at managing pain that it is possible to use it in place of anaesthetic during surgery and there are many documented examples of this. Just look on YouTube. Our anticipation of what giving birth is like is based on cultural and social references. In other words, what our parents, friends, midwives and doctors tell us has an influence on us and can often cause what's described as the 'fear, tension, pain' cycle.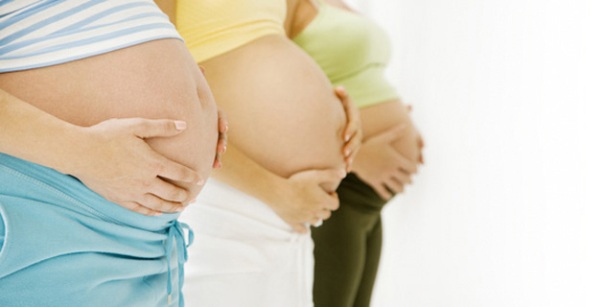 Most ante-natal classes teach the benefits of breathing techniques and relaxation. Hypnobirthing adds to these simple strategies by helping you to focus positively on overcoming fears and relieving tension. This gives your body the chance to give birth naturally and comfortably because you're not wearing yourself out by resisting the inevitable. Just imagine arm wrestling with yourself. That's exactly what happens to your abdominal muscles if you're tense while giving birth. Nothing moves and everything aches.
Hypnotherapy is also a means to interrupt the neurological pathways which transmit pain.
When should you start hypnobirthing?
Generally, I advise beginning to practise hypnobirthing at the beginning of the third trimester at about 30 weeks gestation. Your baby is viable. Your body is preparing for birth. There's no need to sign up for an expensive class. It's possible to master a number of simple techniques with repeated use of my recordings. It teaches you how to use self hypnosis from the first contraction until your baby is four hours old.
When I see parents-to-be in my clinic, I work with them individually on the emotional, psychological and relationships issues surrounding childbirth and welcoming a new baby into their lives. I deal with the personal concerns and anxieties of both parents and give them guidance relating to their specific circumstances.
This support is just as relevant whether a C section or other intervention is required or the birth is natural. The aim hypnobirthing is to make the experience as positive and memorable as can be. I leave medical aspects of childbirth to the midwives and doctors.
Just imagine being able to describe anything you like about your hopes and aspirations for them and conveying comfort, love and reassurance. This internal connection will continue after the birth, helping you to establish a powerful and immediate bond with your newborn.
Hypnobirthing – The Natural Way
Available to every mother-to-be at minimal cost, hypnobirthing is safe and effective.

Evidence
Effect of hypnosis on length of labour
Hao et al in China measured the effect of nursing suggestions to labouring women and recommends that the conversation of the nurses be "controlled carefully for the purpose of advancing the birth process".
This randomised control trial examined 60 first time mothers with a matched control group of 60 first time mothers and found a statistically significant reduction in the lengths of the first and second stages of labour.
Jenkins and Pritchard found a reduction of 3 hours for prim gravid women (from 9.3 hours to 6.4 hours) and 1 hour for multi gravid women (from 6.2 hours to 5.3 hours) for active labour (262 subjects and 600 controls). Pushing was statistically shorter for first time mothers (from 50 min to 37 min).
In a study that compared hypnosis and Lamaze training, 96 women chose between hypnosis (n=45) and Lamaze (n=51). The first stage of labour was shortened in the hypnosis group by 98 minutes for first time mothers and by 40 minutes for second time mothers. These women were more satisfied with labour and reported other benefits of hypnosis such as reduced anxiety and help with getting to sleep.
A British study found a statistically significant reduction in the length of labour of first and second time mothers: 70 hypnosis patients (6 h 21 min) compared to 70 relaxation patients (9 h 28 min) and 70 control group (9 h 45 min).
Mellegren noted a reduction of two to three hours of labour.
Abramson and Heron found a shorter first stage of labour for 100 women trained with hypnosis (by 3.23 hours) compared to a control group of 88 women. Forty-five Hypnosis for Childbirth clients (first time mothers) had an average of 4.5 hours for the active labour, a significant reduction compared to the usual 12 hours.
Medication use
In a British study, 55% of 45 patients (first and second time mothers) required no medication for pain relief. In the other non-hypnosis groups, only 22% of 90 women required no medication.
Two research pieces reported on 1,000 consecutive births: 850 women used hypnotic analgesia resulting in 58 percent rate of no medication. Five other research pieces reported an incidence of 60 to 79 percent non-medicated births.
A retrospective survey notes an epidural rate of 18 percent in Southern Ontario, where the epidural rate in most hospitals is 40 to 95 percent (depending on the setting) for first time mothers.
Rates of Intervention
In a randomised control trial of 42 teenagers in Florida, none of the 22 patients in the hypnosis group experienced surgical intervention compared with 12 of the 20 patients in the control group (p=.000). Twelve patients in the hypnosis group experienced complications compared with 17 in the control group (p=.047).
Harmon, Hynan and Tyre reported more spontaneous deliveries, higher Agpar scores and reduced medication use in their study of 60 women. Of the 45 Hypnosis for Childbirth clients, 38 delivered without the use of caesarean, forceps or vacuum, a rate of spontaneous birth of 84%. This is a higher than average rate of normal birth for the general population of first time mothers.
Postpartum
In a randomised control trial of 42 teenagers in Florida, only 1 patient in the hypnosis group had a hospital stay of more than two days compared with 8 patients in the control group (p=.008).
Postpartum Depression
McCarthy provided five 30-minute sessions to 600 women and found a virtual absence of postpartum depression, compared to the typical rates of 10 to 15 percent. Women with a history of postpartum depression did not develop this condition, even though an estimated 50 percent eventually do. Harmon et al also reported lower depression scores in the hypnotically treated group.
It appears that a simple intervention, hypnotherapy, has far-reaching effects both medically and socially. Some, but not all, of the above studies are randomised, have large numbers, include control groups and demonstrate statistical significance. There remains, therefore, a clear need for more research, in the use of hypnosis for childbirth preparation.