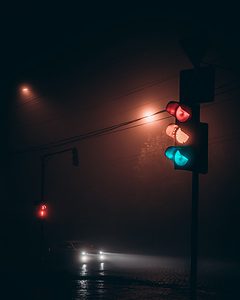 For some people,, the hardest thing about the pandemic will be the prospect of returning to normal, albeit a new one. Three lockdowns in the past twelve months have required many to put their lives on pause, then reset, then pause again. And again.
It's as if we've all been waiting at a traffic light on the roadmap to recovery hailed by Boris as being the way forward. But there's no 'Lifeway' code to help us navigate the jam this has created. Pre covid, there wasn't enough time to take the foot off the accelerator and brake or cruise for a while.
Being stuck at a red light is an opportunity to reflect on what direction to take. When life is moving along at a steady pace, it's easy to follow the main drag and forget about exploring other avenues. Being a passenger. Not thinking about the next turn. That relatively stress free but often unsatisfying option is no longer available to many.
To fulfil their potential, the young in particular and having to get behind the wheel and steer their life towards success. This is a tough challenge for anyone who thought they knew which direction their life was taking. Not everyone has the life skills or confidence to kickstart an interrupted education or career path.
Hazard warning
When the traffic lights go green and all roads to a new normal open up, anyone unsure of where they're going next risks stalling, freezing like a rabbit in the headlights or, worse still, crashing and burning in a mental health crisis of depression or anxiety.
There's been a lot of awareness of the reported surge in anxiety during lockdowns. I predict there will be many more sufferers post the lifting of restrictions as we all have to readjust to the pressures and responsibilities of normal life and adapt to uncertainties ahead.
On an individual level, we all have the opportunity to seize the day and it remains to be seen how many of us are doing just that. Property sales in bucolic rural areas are on the up as city workers rush to the countryside for a happier, less hectic life. Employers recognising massive savings on expensive commercial space are embracing flexi working, changing the life of many commuters. Out of the surge in unemployment will come a rise in innovation as the newly jobless find creative new ways to make a living.
Road blocks
Politicians will be called upon to put measures in place to provide more support to those who, for example, remain jobless or are mentally unwell because of the pandemic. Those who cannot just hop on the bus to a better future will get some help but it may not be enough or fast enough to help them back on their feet without consequences. Along with the casualties of covid, these are also its victims. I was saddened to read that many of the homeless given accommodation during lockdown are back on the streets.
Temporary fixes during lockdown will hopefully lead to permanent changes in the areas where they are needed the most. The Government has pledged £500 million to improve mental health services which have been desperately underfunded for decades.
Many of those visiting my practice have given up waiting for a referral to an NHS therapist or there simply aren't services available to help with their particular problem. Better access to mental health services and more choice of treatments available will help individuals get back in the driving seat and follow a new roadmap to a brighter future.